Folks....what happens when a Mississippi native Harmonica player teams up with a German Sound Designer for The Tiger Lillies and a Philosopher based in Switzerland? Listen for yourself, and read some excerpts from the Happy Clinic
website
!
Belly X 2, a soulful piano ballad gives way to some 21st century deep-fried southern boogie (with guest solo by Mississippi harmonica man,
Scott Albert Johnson
).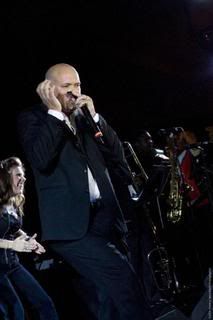 A Sullivan/Bühler collaboration featuring
Scott Albert Johnson
from Jackson, MS!
If you love
Scott Albert Johnson
as much as we do, click
here
and buy his album.
Oxford-trained philosopher teams up with Berlin beatmeister on danceable romp through human excess and depravity.
Set in Moscow, Paris, Bangkok and London, Sullivan`s autobiographical texts take us to a veritable freak-show of late night debauchery: Lolita-like vixens, internet chess addicts, ebony temptresses, fat sex tourists, predatory dwarves, and public masturbators all parade on through. But, throwing intellectual pretensions aside, the darker themes are leavened by Bühler`s savvy arrangements, and streetwise beats and bass riffs.
When everything, it seems, has been said, what do you do? Sullivan simply took the weirdest shit he has ever seen or done, the most bizarro-land afterhours encounters of his life, distilled it down to poems, and together with Bühler, turned those poems into songs. The result is a memory mound, one not marked by longing or regret, but rather a bravura last hurrah to a reckless youth.
Stefan Sullivan
Sullivan studied political philosophy at Oxford and achieved wide-spread critical acclaim with his first novel, Sibirischer Schwindel (Eichborn/Frankfurt, 2002). Set during the Siberian oil boom of the mid-90s, Neue Zuercher Zeitung lauded the work`s "marriage of orgiastic prose and sober observations," Titel Magazin called it, "a verbal fireworks of Humor, Trash and Philosophy…an absolute literary discovery." Classically-trained in piano and church organ, he has also given over two hundred performances as a lounge pianist and vocalist. A native of Washington D.C., he currently lives in Basel, Switzerland.
Claus Bühler
Bühler is currently sound designer on The Tiger Lillies`s world tour, a renowned three-piece British cabaret act. Other music/composer credits include the show Welttraum 2001 (3 month run at Berlin`s Chameleon Variety), backing tracks for world champion juggler Diabolo Juggling Genius Martin Mall, as well as acoustic logos and trailers for television and advertising. A veteran drummer on the Berlin scene, including "Zone Six", Tobe and the Delicious Doughnut releases, he found considerable download success with his 1998 solo track, Oh, Baby Yeah, in which an inflatable doll slaughters her owner. He is based in the Black Forest of Germany.